#BlitzkriegLove is a 5 hearts Recommended read by HarlequinJunkie!
Don't you just love days like this? I know I do! 😀
The lovely Lauren from Harlequin Junkie dubbed Blitzkrieg Love a 5 hearts recommended read! That's something a gal like me will always love to wake up to 😀 Head on over to HJ to read the review in all its glory! Yeeey!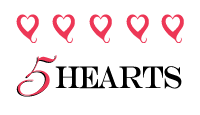 On the tour, today I'm stopping by Pembroke Sinclair's place. If you'd like to enter the tour giveaway, stay tuned for the next stops this week for a $30 giftcard giveaway and 4 ebooks copies of Blitzkrieg Love 🙂
*exists stage dancing*